Testimonies
& Critics
Elisabeth van Moere
Art in general, music and dance particularly, have always been of the upmost importance to my parents. Therefore, still very young, I have been taken to concerts and spectacles. Thus, when I was seven years old, I have discovered the Marquis De Cuevas' Company, during its mythical Parisian seasons.
Among every soloist, every famous ballerines and danseurs in the Company, there was one in particular who frightened me the most: he danced the traitor who gets himself killed in "Doña Inés de Castro". He was Wladimir Skouratoff.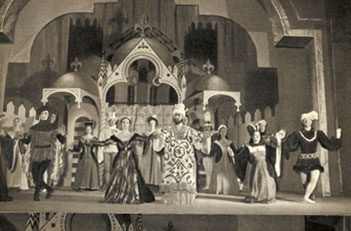 "Doña Inés de Castro"
with Skouratoff (left) and Ricarda (center)
(Photo: Serge Lido)
I had heard about him doubly, because he was one of the Company's most renowned figures and also because he was the son of a friend to my Russian aunt, who lived with us. She praised him very much, but I think now that even a child seven years old didn't need all that, because his own talent spoke enough of him, to the point that I still remember those great passages from ballets I have been lucky to see him dance.

I saw him dance, at this period, "Bolero" and "Idylle". Afterwards I was thrilled to see him in "La Somnambule" and "Piège de lumière", my memories of this ballets being even more precise, because meanwhile I had grown up a little bit.

A dancer's professional life makes him to be an interpreter above all, but also a choreographer, a dance teacher and a professor. On Dance's world the transmission of knowledge it's an essential thing and being able to work with the greatest it's a privilege; I enjoyed it during several years following Wladimir Skouratoff' teaching: a demanding, exacting teacher, a tireless transmitter of classic technique, style and repertoire as he was.

It's from him, during his courses on adage and repertoire, that I have learned the greatest classic pas de deux: those from "Casse-Noisette", "Lac des Cygnes", "Don Quichotte", "Les sylphides"; I remember also working on ballets from the contemporary repertoire, such as Balanchine's "Pas de Trois" or Lifar's "Aubade". I had the good luck that he made the demonstration of all the Pas de Deux with me, and I am proud and moved at a time on being able to say it. Those were blessed times in my life.

He didn't facilitated us, but his exigency was never a despotic one; he rested always human and just, that which is not so frequent on this métier...At the end of each class, I have a tender memory of his gentle "are your feet all right?", asked with an affectionate smile to the ballerinas who got rid of their dance shoes with a proportional speed to the time they've passed on them!

The thing he cared the most was to attain that we could go beyond the technique and become more attached to the characters above all. In this regard, I remember how he got "angry" confronting a ballerina who refused to stick her cheek to her partenaire's during the 2nd act's pas de deux from Lac des Cygnes. At that time, the Prince embrasses the white swan within his arms and cuddles her gently. "Finally, you are not on real life; you are Odette, you must let you go, nothing is going to happen to you!"

During his courses, I was able to value the kind of a partenaire he was. Frequently young dancers, even those who are not beginners, forget to catch you after a pirouette or lock you up in a way you can't do anything else: I don't mean the breathing cutted off or the bruises from a very strong pressure of their fingers. He had incredible light hands, he held you up almost intangiblesly. He had a susprisingly way to hold the balance of an arabesque, with a light touch of his fingers or his wrist.

During the courses he didn't talked very much, he preferred the gesture to the words, that which confused some of the students who were used to get the work chewed on them, by naming the steps and showing them at the same time. He showed rather than explaining, he suggested the movement, and it was up to us to decipher it, to grab it on the fly.

During the learning of the pas de deux, mainly on the passages where the partenaire is behind the ballerina upon the choreography's requirements, he "dictated" according as the enchainment of the steps,which wasn't easy, but in spite of it all I can't remember being frequently wrong; thus I think, being used himself to work and to assimilate quickly, close to choreographers as Serge Lifar, he relied on the ballerina's absolute concentration.

I suppose his partenaires have appreciated the security they could found on such a reliable respectful porteur, always putting the danseuse at the first place. As it concerns myself, I was so fascinated and wondered at working with him that I absolutely trusted him. One time, he asked me to make an arabesque sur pointes, after he whispered at my ear "let yourself go". After a moment, I found myself my head down, my leg raised from the arabesque to the vertical, carried up to a vertiginous double tour, then straightened up all at once to finish en poisson before even being able to say ugh!

Day after day a dancer takes its courses, la barre, le milieu, for the ballerinas the points. But he rarely does it alone; he needs the confrontation with his similar ones and the teacher's watchful glance. But there are courses and courses: Skouratoff's are among the best. His barre is simple and complete, not too long; you finish it warmed up, not exhausted through complicated exercices that prevent you to concentrate on the muscular preparation. From the pliés, he takes a particular care to the ports de bras, to head and shoulders. Style and above all music's respect enlive his teaching. The milieu corresponds to the same requirements. His enchainments appeal to the purest classicism, that which gives the dancer the ability to progress. He's an ideal teacher, the kind of which you do not have the luck to encounter but exceptionally.

Not having the opportunity of being on a company where he has been the maître de ballet, I can't say anything of him as such, but I know many of his ancient dancers who would do it with pleasure and gratitude.

I wanted through this brief words to give a testimony of the admiration and affection I feel for an artist who has somehow been a part of my life since my chilhood. He is one of the beacon-artists of his generation and I am glad having said it so.