Testimonies
& Critics
Irene Lidova, 1953
This young Ukrainian with a sombre dreamy face was raised on a Montmartre street, nearby the place Clichy, and was just a child when the first French-Russian generation of "Baby-Ballerinas" was already shining up.

A boy pale and shy, a little bended, he made in displease the annoying "barre" at Olga Preobrajenska'study. His mother, self-willed and impatient, brooded his first steps, but Volodia looked at her with his great brown eyes filled with a touching request.

As an adolescent, he was irresistibly attracted to music, he worked at the piano but during the war he was driven to use his rudimentary knowledge on dance to assure his existence.

He danced during the difficult years in the Revue of the great cabaret Lido - an exhausting ingrate nocturnal work which gave him scenic assurance but prevented the normal development of his qualities. He neglected his lessons, discouraged by his art which was but an overwhelming profession.

In 1944, during a performance of young artists where they appeared some of his comrades, already in their full glory, as Ana Nevada or Janine Charrat, Skouratoff – who at the time being had just "Volodia" as his artistic name – danced a Narcisse choreographied by Roland Petit. This torpid shy Narcisse allowed Skouratoff to enter the young ballet's world, who was already in full effervescence. This debut took him also to Serge Lifar, who was at the beginning of Chota Roustaveli' rehearsals, and who awakened the young dancer'strong temperament – a danseur de caractère' temperament, nervous and dynamical. Lifar engaged him in Monte-Carlo on 1946, and at this time Renee Jeanmaire and Skouratoff associated to debut in a promising career. They danced together Aubade by Francis Poulenc and whitin a year they gave a recital at the Sale Pleyel. Meanwhile, Skouratoff recovers himself, works fiercely, gets an excellent "ballon" and a very harmonious plasticity, but his classic variations always reveal a lack of sustained work. He dances at a Janine Charrat' recital some excerpts from Cantique des Cantiques that centers on his animal vivacity; he takes part on the Ballet Russes du Colonel de Basil' season at London and Paris in 1947, but it's only in 1948, with the Ballets de Paris' troupe that Skouratoff gets his first great success, dancing the role of the "dandy" in Beau Danube, on Massine's choreography.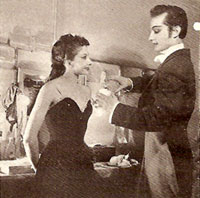 In "Le Beau Danube"
with Renée Jeanmaire
Photo: Serge Lido
It is then when he begins feeling his own power; a fascinating vitality spouts out of him, but a few months later, in London with Roland Petit, he is seized by doubts, discouraged, and retrieves his freedom. He joins Ivette Chauvire but the partenaire situation displeases him. He longs again for freedom, he hesitates and seeks.

Finally, in Florence on May 1951, he is found ahead a great dance season, leaded by Aurel Milloss. He is assured and ambitious. A new stage begins for Skouratoff several months later, at London, when he appears with Jacqueline Moreau at the Ballets des Champs-Elysées. The young dancer has finally a fierce desire for dancing and success, he is concious of his charm, he likes success. The Marquis de Cuevas engages him and Skouratoff imposes quickly. He works tirelessly, he corrects his faults, he sets himself free from doubts and this time he reaches his goal without restrictions.
In 1952 he can be seen unfolding and fastening up his personality: he dances with brio le pas de deux from Don Quichotte, he is the charming danseur in Tertulia and the touching performer in Piège de lumière by Philippe Hériat.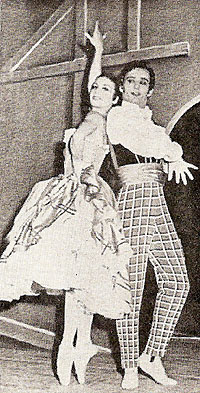 In "Tertulia"
with Jacqueline Moreau
Photo: Serge Lido
But it's seing him execute the Georgian "lezginka", on a red jacket, with a poniard at his waist, that we can discover the real Wladimir Skouratoff, passionate, fierce and rapid as a young eagle.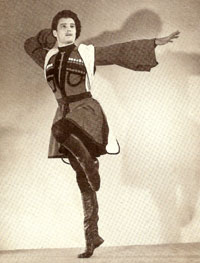 "Lezginska"
Photo: Serge Lido