Testimonies
& Critics
In Wladimir Skouratoff's career as a classical and demi-caractère dancer, there are mainly two great stages: first, that one under Serge Lifar's artistic direction, being this last one who first recognized young Volodia's potential skills for dancing, in 1945; then, the one with the Marquis De Cuevas, whose Great Ballet Company was probably the last of her kind.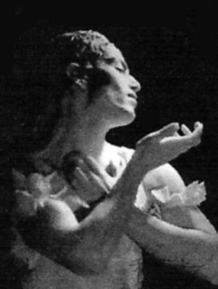 Serge Lifar
The lifarian stages
Les nouveaux Ballets de Monte-Carlo's Company was dissolved in 1945, then a new one under the name Le nouveau Ballet de Monte-Carlo was created, with the artistic direction of Serge Lifar, gathering a group of magnificent dancers such as Ivette Chauvire, Janine Charrat, Renee Jeanmaire, Ludmila Tcherina, Alexander Kalioujny, Edmond Audran and Wladimir Skouratoff.
In the words of the famous writer and critic Pierre Michaut on his book Le Ballet Contemporain (1950): "In the effervescence after the Liberation of Paris and France, Serge Lifar was removed from the Opera, taking then the artistic direction of Le nouveau Ballet de Monte-Carlo, which was constituted by the impresario Eugene Grunberg and which was supposed to continue the tradition of the Princedom ballet seasons. After several weeks of feverish work he created a repertory made of reprises and new creations, important and worthy works, able to appraise the qualities of the group gathered around him. Some of this dancers belonged to the region and were formed at Nice dance studios; others were stablished on the Princedom during the war; many others came from Paris, irresistibly attracted by the announcement of the reopening of Monte-Carlo's Theatre, witness of so many happy choreographic events, and by Lifar's prestige: there were Boris Trailine, Gerard Mulys, Leo Lauer and the "youngest" Franchetti, Auburtin, J.-B.Lemoine, and Olga Adabache, Marcelle Cassini, Helene Trailine, Olga Kirilova, Genevieve Lespagnol...From Paris they were Renee Jeanmaire, Algaroff, Skouratoff...and Ivette Chauvire, who had just quitted the Opera. She was the star of the Company and was able to show the real extent of her talent".
During the period 1945-1947 Lifar created specially for Skouratoff the following choreographies:
CANTIQUE DES CANTIQUES
Music by Arthur Honegger and Paul Colin. On a libretto by Gabriel Boissy, it was adapted to a pas de deux for a recital with Skouratoff and Janine Charrat in 1945.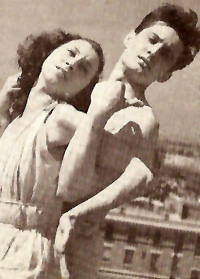 Skouratoff and Charrat
(Photo: Serge Lido)
AUBADE
Music by Francis Poulenc, was presented in 1946 with Skouratoff and Renee Jeanmaire. The libretto was inspired on the mythological legend of Diana and Acteon.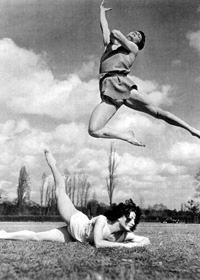 Skouratoff and Jeanmaire
PYGMALION
Inspired by the legend of Pygmalion and Galathée, music by Sergei Prokofiev's Classic Symphony. Also in 1946.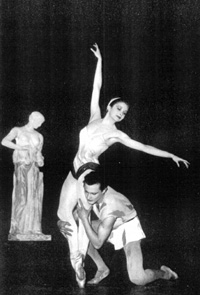 Skouratoff and Jeanmaire
(Photo: Gullermin)
CHOTA ROUSTAVELI
Music by Honegger, Harsanyi and Tcherepnine, based upon the georgian legend of Queen Thamar, this ballet has never been represented again due to its complexity. The cast was composed by Lifar himself in the main rôle, Ivette Chauvire, Janine Charrat, Alexander Kalioujny, Youli Algaroff and Wladimir Skouratoff in the rôle of Prince Avtandil. It was presented on May 5th, 1946 at the Monte-Carlo Theatre.
In the words of the famous English critic Cyril Beaumont on his book "Ballets Past and Present" (1955): "Act III is chiefly remarquable for the combat in which Avtandil (Skouratoff), is first overcome by the enemy chief (Kalioujny), in turn vanquished by Tariel (Algaroff). Here Lifar has devised the adroit plan of making the enemy chief attempt to vanquish his opponent not by actual force of arms, but by a form of choreographic contest, in which he challenges his opponent to match his skill in the execution of a difficult and exhausting phrase of steps."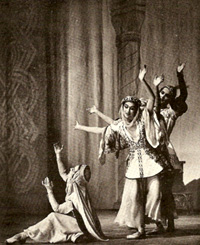 Skouratoff, Chauviré and Charrat
MEPHISTO VALSE
Upon the homonymous music by Franz Liszt, with a Lifar's libretto based on the characters of Goethe's novel, with Ludmila Tcherina (Marguerite), Edmond Audran (Mephisto) and Wladimir Skouratoff (Faust).
DRAMMA PER MUSICA
Music by J.S.Bach, with Ivette Chauvire, Edmond Audran, Alexander Kalioujny, Boris Trailine and Wladimir Skouratoff, was presented on May 2nd, 1946 at Monte-Carlo's Theatre.
ROMEO ET JULIETTE
Lifar recreated this ballet, upon the homonymous symphonic poem of Tchaikowski, for Ivette Chauvire and Wladimir Skouratoff, in a new version from the one he had created before for Ludmila Tcherina and himself.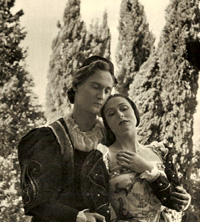 Skouratoff and Chauviré
(Photo: S. Lido)
SUITE EN BLANC
Skouratoff was likewise one of the dancers to integrate Suite en Blanc's new version, created originally for the Opera de Paris upon Lalo's Namouna, and then represented at Monte-Carlo in 1946, lightly modified and under the title "Noir et Blanc".