Testimonies
& Critics
Aurel Milloss and the Italian stages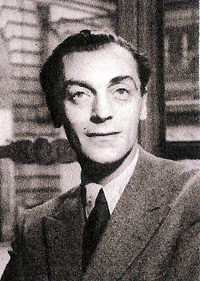 Aurel Milloss
The Scala di Milan Theatre was reconstructed in 1946 over the ruins of its ancient hall, destroyed by an air bombardment during the war. The opening was to be held on a concert on May 11th, 1946 conducted by Arturo Toscanini, thanks to the advise of whom Aurel Milloss was charged to reorganize the Theatre's Ballet company, dispersed on war's last moments. He was engaged for the next summer season at the Palazzo dello Sport in Milan.

| | | |
| --- | --- | --- |
| | | |
| | | |
| Teatro alla Scala di Milan | | |
During 1946 up to 1966, Aurel Milloss, mainly stablished at Rome, created numerous works as a choreographer in Milan, Florence and Venice, besides his collaborations in other countries as France, Brazil and Argentina.
Through his encounter in 1947 with Boris Kochno, who had recently formed the Ballets des Champs-Elyssées, Milloss made acquaintance with great dancers of that Company, such as Yvette Chauvire, Wladimir Skouratoff and Jean Babilée.
The Italian stages
Teatro alla Scala de Milan (1949-1950)
On a recital given at this Theatre on December 31st 1949, Yvette Chauvire and Wladimir Skouratoff danced "Suite romantique" (Chopin-Lifar), "L'oiseau de feu" (Stravinsky-Wallmann) and "La mort du cygne" (Chopin-Lifar).
This two dancers are shown here at a rehearsal in La Scala: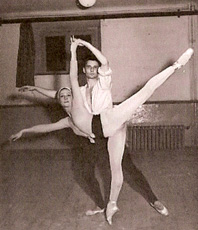 Chauviré y Skouratoff,
Teatro alla Scala, Milán, 1949
At the same Theatre on December 31st, 1950 "La Péri" is performed, with Paul Dukas'music and Serge Lifar's choreography, and with Wladimir Skouratoff as Iskender and Luciana Novaro as La Péri ; and "Giselle", music by Adam, choreography by Coralli-Perrot, with Yvette Chauvire as Giselle and Wladimir Skouratoff as Albrecht.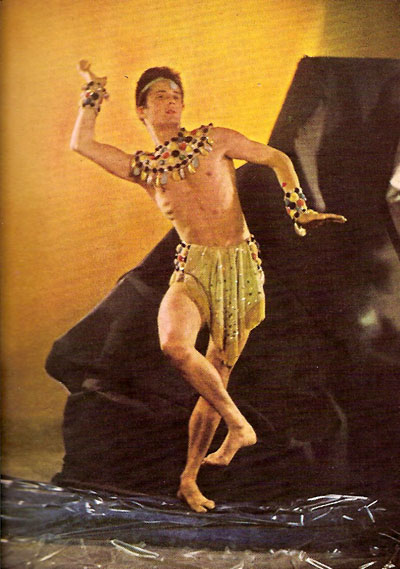 Skouratoff in La Péri, 1946
Photo: Gordon Anthony
Maggio musicale fiorentino (1950-1951)
For his work at the Florence Musical May Festival, Milloss created the Balletto dal Maggio dance company, with Yvette Chauvire, Wladimir Skouratoff, Jean Babilée, Natalie Philippart, Jacqueline Moreau and Jurek Shabelewski, with Tamara Toumanova, the great russian étoile, as guest-dancer in some of the representations.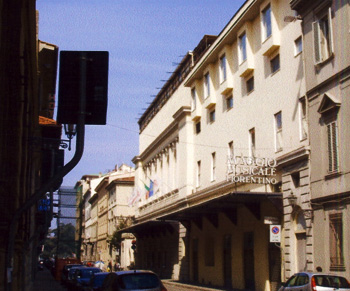 Teatro Comunale di Firenze,
siege of the Florence Musical May Festival
During the XIII Festival at the Teatro Comunale di Firenze, on May 11th , 1950, Aurel Milloss presents for the first time his choreography for "Armida", upon the epic poem by Torcuato Tasso, a musical-tragedy by Jean-Baptiste Lulli, with Wladimir Skouratoff as Rinaldo, Maria Dalba as Armida, casting also Geneviève Lespagnol, Boris Trailine and Christian Claudel.
Upon this work, written by Torcuato Tasso in 1575, which relates Jerusalem's liberation from the Saracen through the Christian Crusades, we have to point out, as a singular data, that it inspired two different choreographic creations, based on some of its main characters, as follows: The world premiere of "Le combat" took place at the Prince Theatre in London on February 24th, 1949, music by Rafaello de Banfield, choreography by William Dollar, with Wladimir Skouratoff as Tancredo and Janine Charrat as Clorinda.
And on May 11th, 1950, the one which we have just mentionned, "Armida" (Lulli-Milloss) with Wladimir Skouratoff as Rinaldo and Maria Dalba as Armida.
Curiously, on both cases, Skouratoff performed the two principal male characters of Tasso's work.

Skouratoff (Tancredo) and Madeleine Lafon (Clorinda) in "Le combat"
For the same Festival (1950), Milloss creates the choreography for "Chout", music by Prokofiev, costumes by Renato Gutusso, which designs we reproduce below:

Gutusso designs for Dalba (the woman)
and Skouratoff (the buffoon)
Teatro La Fenice de Venecia
On September 18th 1950 Milloss presents his version of "Il principe di legno" (Bela Bartok's The wooden Prince), with Wladimir Skouratoff as the main rôle, and Irene Skorik, Mirza Kalnins and Jurek Shabelewski, whitin the frame of the Balletti della Bienale of Venice, Italy.
According to the writer Patrizia Veroli on her study "The choreography of Aurel Milloss, Part II: 1946-1966" (Dance Chronical Journal, 1990), "...the choreographer happily combined the various motives of classical dance with those belonging to danse de demi-caractère, obviously drawing deeply on Hungarian folklore".

For the XIV Musical May Festival in Florence, a performance of "Mystères" takes place, a choreography by Milloss upon Bela Bartok's Music for Strings, Percussion and Celesta, with Yvette Chauvire, Natalie Philippart, Jean Babilée, Wladimir Skouratoff and Deryck Mendel. This work had been previously presented in Paris at the Palais de Chaillot on Mars 1950.
For the same event, Verdi's opera "I vespri siciliani" is staged with Milloss' choreography for its 3rd act ballet, on which Skouratoff dances the rôle of the Principe d'Autunno (The Autumn Prince), with Jacqueline Moreau, Violette Verdy, Deryck Mendel and Wladimir Oukhtomsky. The rôle of Duchess Elena was performed by Maria Callas.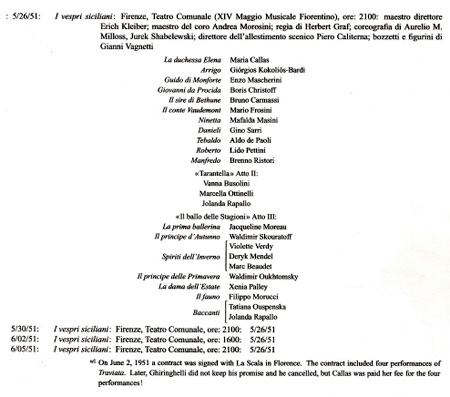 Detail on "I vespri siciliani" in Florence, May 1951
Within the frame of this XIV Festival, at the Teatro Comunale in Florence, the first representation of Milloss' pastoral ballet "Tirse e Clori" takes place, upon Claudio Monteverdi's sing and dance music, which Milloss restaged for the first time since its premiere, three centuries before, at the Gonzaga court of Mantua. Also according to Patrizia Veroli, "critics and audience appreciated the choreographer's modern taste in reviving seventeenth-century pastoral ballet style, using a language that was well fitted to the polyphonic texture of the score.(...) His ability to catch the poetical atmosphere of the seventeenth-century allowed him to evoke much of the sweet and airy grace as well as the subtly melancholic magnificence of those rich and complex times". The title rôles were performed by Yvette Chauvire and Wladimir Skouratoff.
During this same Festival (1951), Milloss presented also two other choreographies, "Delicia Populi", music by Alfredo Casella, with Wladimir Skouratoff (Pulcinella), Jacqueline Moreau (Isabella), Violette Verdy (Rosetta) and Wladimir Oukhtomsky (Arlecchino); and "Visione nostalgica", music by Ferruccio Busoni (upon his work Tanzwalzer), performed by Jacqueline Moreau and Wladimir Skouratoff.
For the Lyric Season 1951-52 at the Teatro Comunale, in January 1952, Wladimir Skouratoff dances "Antiche danze ed arie", music by Ottorino Respighi, choreography by Nives Poli, with Nives Poli, Carlos Proietti and Alberto Testa; and "L'uccello di fuoco" (The Firebird), by Stravinsky, with Jacqueline Moreau and Nives Poli also with a choreography by this later.

And it's precisely at this time when Skouratoff dances at the XIV Festival in Florence, at the same evening, "Romeo et Juliette" (Tchaikowski-Lifar), "Grand Pas Classique" (Auber-Gsovski) and "Nocturne" (Mozart-Gsovski) with Yvette Chauvire; and with Tamara Toumanova "Lac des Cygnes" (2nd act) (Tchaikowski-Ivanov,Petipa) and "Don Quichotte" (Minkus-Petipa) pas de deux.
Skouratoff always remembers with great admiration such choregraphic event, which reunited at the same soirée two of the greatest ballerinas of their time, with him as the partenaire of each one. And he's not wrong when he says such an event has never been repeated on Dance's history.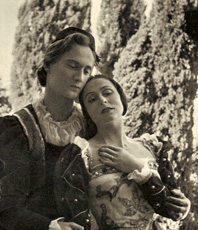 Skouratoff and Chauvire
in "Romeo et Juliette"
(photo taken by Serge Lido in
The Florence Gardens, May 1951)
Wladimir Skouratoff said to us recently that he has been the only one dancing "Tirse e Clori" and "Il Principe di legno". And he also remembers, at his first arrival on the Scala di Milan, having been asked if he was there "to sing an opera", which obviously he rapidly denied. "At the Scala they knew very little about Dance in those times", he explains.