Testimonies
& Critics
20 years at the Grand Théâtre de Bordeaux
The 40th Anniversary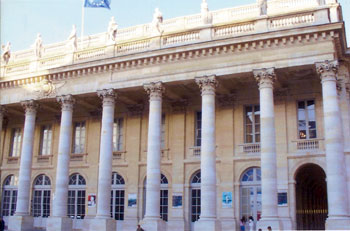 Grand Théâtre de Bordeaux
In 1971, Wladimir Skouratoff was engaged by the Grand Théâtre of Bordeaux as a choregrapher and maître de ballet. This is the 40th anniversary of his work, which was made modestly and silently over 20 years on that Bordeaux city where he choose to live the rest of his life.
During his career as a danseur étoile from the Marquis de Cuevas' Ballet Company, he had made already some choregraphic works at the request of Cuevas, like "Scarlattiana", "Perlimplinade" and "Romeo et Juliette" (together with other three choregraphers), and after the company's disintegration he traveled over European theatres on which he performed as a dancer and choregrapher: Strasbourg, Geneva, Marseilles, Nice, Belgium.
His work as "maître de ballet" was to create for the Grand Théâtre a ballet company which would correspond exactly to the rigorous terms of the great French-Russian Dance' tradition, following the lineaments by Marius Petipa, considered as "the father of the original Ballet Russes" who in fact had a great influence in Bordeaux previously to his definitive instalment in Saint-Petersbourg in 1847.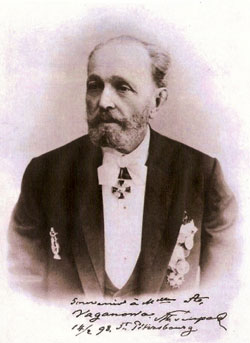 Once definitively installed in Bordeaux, Skouratoff ' work as a choregrapher began, on his own words, with a new version of "Daphnis et Chloé" by Ravel, which was followed by a long list of personal creations, revivals of the great classical and contemporary ballets and choregraphies for Operas and Operettas, upon which we've made a hard research, because when we consulted personnally the Municipal Archives from the Grand Théâtre of Bordeaux in 2006, we found that unfortunately they were incomplete.

It was necessary then to trust on the magnificent memory of Skouratoff himself, and on further information we could get from other sources, setting then an extensive list of his choregraphic works that we transcribe below.

As an additional information, we want to point out that as the head of the Bordeaux' s Ballet Company, Skouratoff made Homages to Sergei Diaghilew in 1979, to the Marquis de Cuevas in 1982, and to Georges Balanchine in 1984, showing thus his noble attitude of gratefullness and admiration to those Dance'esential figures.

We must also point out that the Bordeaux's Ballet Company performed under his leadership on various important European theatres, as it states the magnificent catalogue from the Casino Theatre of Vichy, which we comment on a preceding section. Also, on several occasions, Skouratoff invited as guests important French figures from the Opéra de Paris like Cyril Atanasoff, Claire Motte, Colette Marchand, Elisabeth Platel, Sylviane Bayard, Noëlla Pontois, Ghislaine Thesmar, Olivier Pardina, Rudy Bryans and others.

We must also say that, even when this huge artist has been critizised for having been mainly a "repriseur" of the great classical and contemporary ballets, with detriment to his personal creation, we think ourselves that this is precisely the true work of a genuine "heir to the great French-Russian Dance' tradition", as we like to call Skouratoff many times on this pages. And we believe no one can deny his true legacy to future generations is that of a total dedication and passionate service to Dance, which not any other dancer or choregrapher could have done.

Our sincere homage then, to one of the most complete and genuine figure from Dancing of all times, who unfortunately never received the aknowledgement he really deserved.

Personal works and revivals
GREAT CLASSICAL BALLETS

Giselle (Adam-cor.Coralli, Perrot)
La belle au bois dormant (Tchaikowsky-cor.Marius Petipa)
Casse-noisette (Tchaikowsky-cor.Ivanov)

Lac des cygnes (Tchaikowsky-cor.Petipa, Ivanov)
La fille mal gardée (Hertel-cor.Dauverbal)
Coppelia (Delibes-cor.Saint-Léon)
Pas de quatre (Pugni-cor.Perrot)

CONTEMPORARY BALLETS

Dances Polovtsiennes (Borodin-Fokine)
L'oiseau de feu (Stravinsky-Fokine)
Le spectre de la rose (Weber, Berlioz-Fokine)
Le tricorne (Falla-Massine)
Les créatures de Prométhée (Beethoven-Lifar)
Aubade (Poulenc-s/Lifar)
Bolero (Ravel-s/Nijinska)
Bourré fantasque (Chabrier-s/Balanchine)
Constantia (Chopin-s/Dollar)
Prisionnier du Caucase (Katchaturian-s/Skibine)
Pas de trois (Glinka-s/Balanchine)
Angora (Rachmaninoff-s/Balanchine)
Etudes (Czerny-s/Lander)
Les Forains (Sauguet-s/Petit)
Parade (Satie-s/Massine)
Symphonie des psaumes (Stravinsky-s/Balanchine)
Le bal des cadets (Strauss-s/Lichine)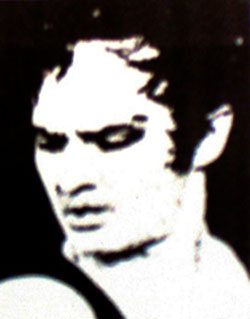 ORIGINALS CREATIONS
Daphnis et Chloé (Ravel)
Musique de l'eau (Haëndel)
Concerto nº 2 (Saint-Saëns)
L'ombre (Lambézal-Duthil)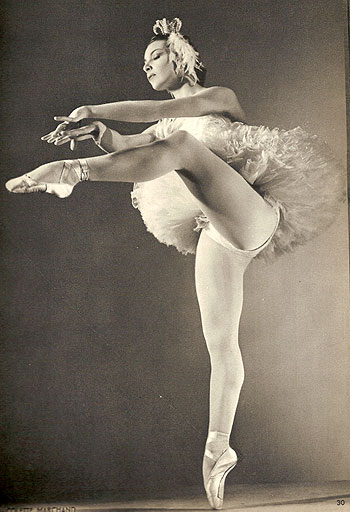 Colette Marchand,
danseuse-étoile from the wordly creation of «L'ombre»
by Lambézal-Duthil, choregraphy by Wladimir Skouratoff in1972
Cendrillon (Prokofiev)
Concerto nº 2 (Prokofiev)
La morte rouge (Curtioux)
Lost illusion (Curtioux)
Un dimanche à l'aube (Chostakovitch)
Cyril Atanasoff,
danseur étoile of the creation of
« Un dimanche à l'aube », upon the Russian
Revolution in 1917, who also danced in the great
revivals of "Casse-noisette" , "Coppelia" and "Giselle"
and on "Dances Polovtsiennes" in 1988

Claire Motte,
danseuse étoile who danced with
Cyril Atanasoff at the Great Gala Choregraphique
in December 1971 on Bordeaux' Grand Théâtre
Symphonie classique (Prokofiev)
L'histoire du soldat (Stravinsky)
Troisième Suite (Bach)
La nymphe aux yeux de nuit (Mort et transfiguration de R.Strauss)
Les deux pigeons (Messager)
Feux d'artifices (Haëndel)
Billy the kid (Copland)
Pierre et le loup (Prokofiev)
Roméo et Juliette (Prokofiev)
Entertainement (Gershwin)
Une histoire du ballet (Menuet-Divertissement (Lulli), La Sabotière (extracto de "La fille mal gardée" (Hertel), Le songe d'une nuit d'été (Mendelsohn), Dances Polovtsiennes (Borodin) y Concerto en Fa (Gershwin) Concerto (Jolivet) Danses eslaves (Dvorak)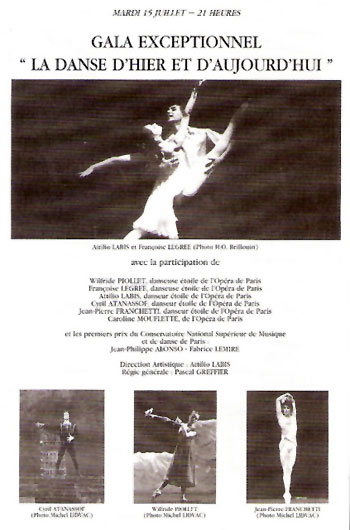 This Gala program was integrated by
"Passion" (Dumont) and the
Divertissements from the 3rd.act of
"La belle au bois dormant" (Tchaikowsky)
Le chant du Morava (Dvorak)
Concerto en Fa (Gershwin)
Symphonie en Ut (Bizet)
Alborade (Rachmaninoff)
Chout (Prokofiev)
La cathédrale du silence (Lambézal)
Enigme variations (Elgar)
La grotte de Fingale (Mendelsohnn)
La leçon (Vivaldi)
Don Juan (Strauss)
La rose écarlate (Sinfonía nº 6 deTchaikowsky)
Le jeu du miroir de bois ("Escenas dramáticas" de Massenet)
L'arbre (Sauguet)
Passion (Dumont)
De Paris sur Seine à Vienne sur Danube
D'Offenbach à Strauss
Nos folles années (Le tango argentin-Le Charleston-Deauville)
Rudy Bryans,
guest danseur étoile who danced
in "Casse-noisette" and "Cendrillon"

Wilfriede Piollet,
who danced as a guest at the Hommage
à Balanchine in 1984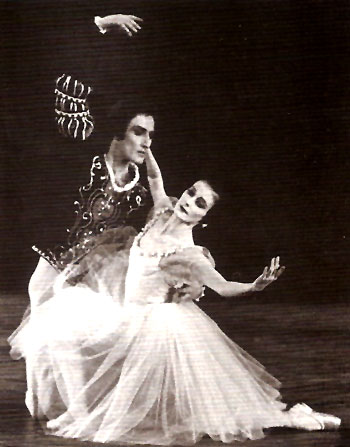 Noëlla Pontois, danseuse-étoile de l'Opéra,
who danced «Giselle» with Cyril Atanasoff,
at the revival by Wladimir Skouratoff in 1985
OPERAS
La Traviata (Verdi)
Les pecheurs de perles (Bizet)
Lakmé (Delibes)
Le nozze di Figaro (Mozart)
Nabucco (Verdi)
Don Giovanni (Mozart)
Don Quichotte (Massenet)
Manon (Massenet)
Don Juan (Glück)
L'amour sorcier (De Falla)
Eugène Oneguin (Tchaikowsky)
Veronique (Messager)
OPERETTAS
Andalousie (López)
Valses de Vienne (J.Strauss)
Trois Valses (O.Strauss)
Rose de Noël (Lehar)
L'opéra d'Aran (Bécaud)
Violettes Imperiales (López)
La vie parisienne (Offenbach)
Rose-Marie (Harbach-Hammerstein)
La chaste Suzanne (Gilbert)
Viva Napoli (López)
Les mousquetaires au covent (Varney)
La parade du printemps (Stolz)
Trois contes russes
Phi-Phi (H.Christiné)
La fille de Mme.Angot (Lecoq)
La Grande Duchesse de Gerolstein (Offenbach)
Un chapeau de paille d'Italie (Lafarge)
Ciboulette (R.Hahn)
Quatre jours à Paris (López)
La belle Helène (Offenbach)
Le pays du sourire (Lehar)
Paganini (Lehar)
Fortunio (Messager)
La veuve joyeuse (Lehar)
Le Baron tzigane (Strauss)
La dame blanche (Boildieu)
Balalaika (Posford-Grun)
Mediterranée (López)
La belle de Cadiz (López)
La fille du tambour-major (Offenbach)
Les cloches de Corneville (Planquette)
Les 28 jours de Clairette (Roger)
L'auberge du cheval blanc (Gilbert-Stolz)
Le chanteur de Mexico (López)
Les saltimbanques (Ganne)