Testimonies
& Critics
London's Festival Ballet
Julian Braunsweg
General Director

Anton Dolin
Artistic Director

                                                     
On his book "Braunsweg's Ballet Scandals (the life of an impresario and the story of Festival Ballet)", Dr. Julian Braunsweg says: "The seeds of Festival Ballet were sown while I was in New York. (Anton) Dolin had invited me to dinner at the Russian Tea Room. It was during this dinner that the idea of a major ballet company with (Alicia) Markova and Dolin entered my head. I asked Dolin if they would consider a tour of Britain using Benn Toff's "fit-up" stage. Dolin promised to talk to Markova when he came to London to partner her at the first presentation of arena ballet at the Empress Hall. Both dancers had been working in America during the war and had made a triumphant return to London dancing with Sadler's Wells at Covent Garden in 1948, but neither of them had been outside the capital since the Markova-Dolin Ballet in 1938."
"I was at their first performance at the Empress Hall, where they danced in an Italian garden before an audience of 6.000. While I disapproved of the arena setting for ballet, I was quite unprepared for the enthusiasm of the audience, who gave the dancers a great ovation. While the applause continued to echo around the cavernous stadium, I rushed backstage and asked Dolin to come and see me the following day."
"I offered the two dancers the highest salaries ever paid to dancers at that time to make a ten-week tour of the provinces. Dolin was very excited about the offer. Markova wasn't. She did not particularly want to tour the provinces and thought it might be detrimental to her image to make such a tour with me – a foreigner she had never heard of."
"Dolin exerted a tremendous influence over Markova and began his gentle art of persuasion. (Sol) Hurok, who had been their impresario in America, also urged her to sign with me. But she continued to hesitate. Eventually, her indecision infuriated Dolin. While she was rereading the contract for the hundredth time, he yelled at her: "For God's sake, sign the thing. If Braunsweg was good enough for Diaghilew, he's good enough for us."
Braunsweg continues remembering all the difficulties he had as the Company's impresario, and its progress through time, and says its name was suggested by Markova herself, being known ever since as Festival Ballet, which debut was made on October 9th, 1950 at the Empire Theatre in Edinburgh.
Wladimir Skouratoff was engaged as guest artist in 1959, and danced with this Company until 1962.
He danced at the Royal Festival Hall in 1959, as Alicia Markova' partenaire in "Giselle" and on "Guillaume Tell's pas de deux."
On her book "Giselle and I", published in 1960, Dame Alicia Markova says:
"This season (1959), my partner was Wladimir Skouratoff, with whom I had danced occasionally during the De Cuevas seasons.(*) Skouratoff was now a fine dramatic Albrecht, particularly strong in the tragic mood and spectacular dancing of the second act, his bearing that of a convincing nobleman."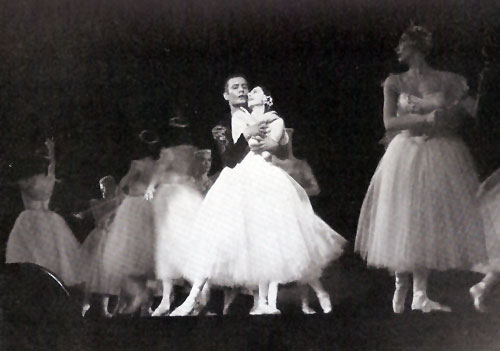 With Markova at "Giselle" second act (photo: Diana Daniels)
(*) Markova refers here to her performances at the Marquis de Cuevas Parisian seasons in 1953, on which her partner being Georges Skibine, due to an "ill-luck at the end of the season, he strained his back and had to be replaced at a few hours' notice by Wladimir Skouratoff".
Julian Braunsweg, on his work mentioned before, says in 1960, being Markova and Dolin, as other members of the Company, temporally away, that year summer season' provincial tour was in risk. He says then: "At the Royal Ballet School we engaged twenty dancers. Olga Ferri and Wladimir Skouratoff were retained as guest artists. I contacted Leon Woizikowsky, who was teaching in Warsaw. For fourteen years he had danced principal character roles with Diaghilew's company. As our Regisseur General, he encouraged and reassured the dancers and rehearsed them for our provincial tour. It proved to be the most profitable in the company's history."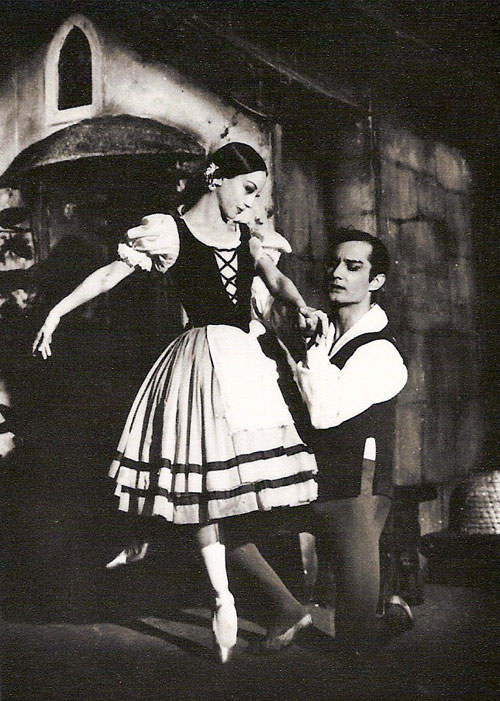 With Ferri at "Giselle" first act
Also on this season, Skouratoff and Ferri danced on "Romeo et Juliette", "Aubade", "Bourré fantasque", "Lac des cygnes", "Don Quichotte", "Grand Pas de fiancées » and other works from the Festival Ballet' repertory, together with « Giselle », which Skouratoff's performance as Count Albrecht was acclaimed by public and critics. (See our notes in this same section).
As to the pas de deux from Rossini's "Guillaume Tell", which Skouratoff danced with Markova in 1959, we think the best documentary way to refer us to it, is this photograph, which we personnally consider one of the most romantic portraits of a dancing partnership that we know: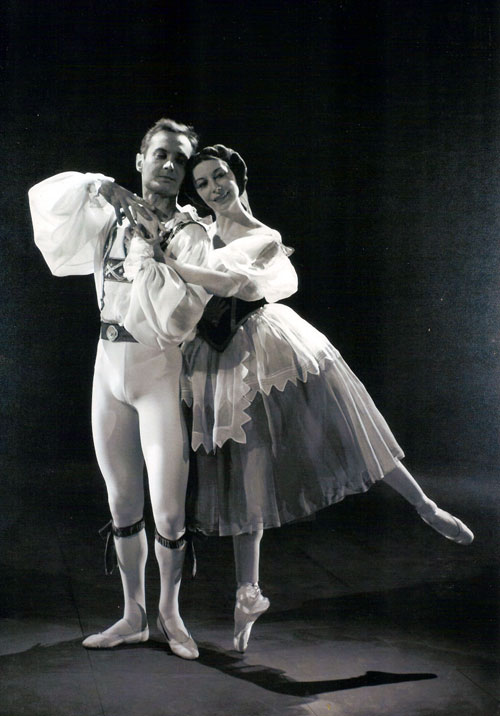 Skouratoff and Markova in the pas de Deux from "Guillaume Tell"
(photo: Pudsey Photograph Collection)
As the program of tuesday August 11th 1960' performance that we show below states, Skouratoff also danced "Le spectre de la Rose", music by Weber, with a choregraphy by Fokine reproduced by Dolin, alternating with John Gilpin, as it's indicated in its lower part.
On October 1959, Dance and Dancers published the photograph and commentary as below: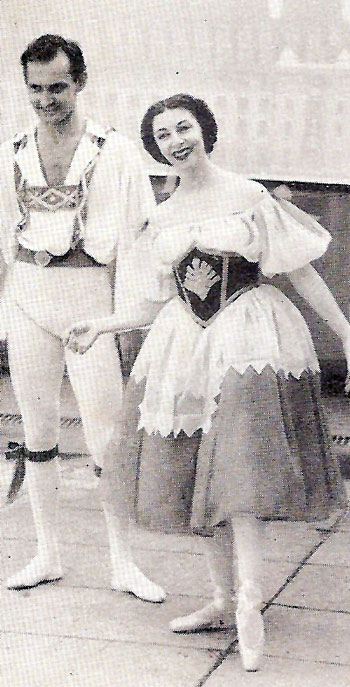 Markova and Skouratoff in the Tyrolean costume
(photo: Diana Daniels)
"ALICIA MARKOVA, with Festival Ballet during their London season, and partnered by Wladimir Skouratoff, as always had a wonderful reception, often stopping the show, many bouquets and innumerable curtain calls."
"SKOURATOFF also came in for his share of the thunderous applause, for he has made many admirers in this country since he first danced here with Lifar's Monte Carlo Ballet in 1946".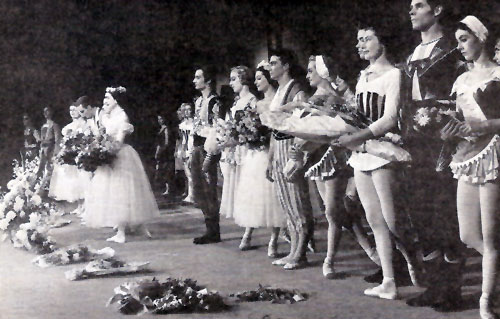 STAR LINE-UP: The artists who had taken part in London's Festival Ballet Tenth Anniversary Gala line up to take their calls. In the distance, left, are Ronald Emblem and Vassilie Trunoff. Front row are Carla Fracci, Belinda Wright, John Gilpin, Yvette Chauviré and Alicia Markova. Behind them are Wladimir Skouratoff, Toni Lander, Marilyn Burr, Louis Godfrey, Jeanette Minty, André Prokovsky, Janet Overton, Jean-Pierre Alban and Diana Westerman.
(photo: Mike Davis)