Testimonies
& Critics
Volodia's Homage
On last January 7th. 2015, the Association des Amis du Grand Théâtre de Bordeaux made a long expected homage to Wladimir Skouratoff, its choreograph and maître de ballet during the 1970-1990's period.
Its vice president, Mme.Maryse Ghibaudo, dictated then an illustrated conference with videos, photos and musical fragments related to his work on that period, which most evokative paragraphs we transcript below:

PREAMBLE
(…) "I wish to thank everyone who, through a text, a photo, a registration, an anecdote or a conversation, have made a contribution to help us better know this extraordinary artist, so reserved and modest, that was Master Skouratoff. It's a general gratefulness and I will not mention anybody, in the fear of forgetting someone. I will only make an exception to name M.Thierry Fouquet: over an idea of one of the dancers, on setting a plaque in Wladimir Skouratoff's memory, M.Fouquet was the only one able to give his approval: and he did it! I have the great pleasure to announce this plaque will be soon settled; let him be greatly praised!"

HIS DEATH
"Wladimir Skouratoff died at Léognan on Monday April 8th. 2013. He was 88, and he – the last heir of Dance's great French-Russian tradition – died in the same silence and modesty he had always lived…his memory, though, will live forever in the heart of those who admired him so much, his friends, colleagues and students all over the world. He rests now on the Carré des cadets from Ste. Geneviève des Bois cemetery in Paris, where he was born, not far from his brother Léon and his mother."
"At the left side of his grave, it's the filmmaker Tarkhowski and in front those of Noureyev and Serge Lifar. Also a little bit far, that of Alexander Volinine, who was one of his teachers."
"We owe to Charles Jude, the current ballet master at the Grand Théâtre de Bordeaux, a deserved homage at the time of Volodia's death: "If Wladimir Skouratoff wouldn't have been so humble, his work would probably have been known largely than it has(…) he was much appreciated in our capital city, where his work to the preservation of the great Franco-Russian tradition was greatly recognized(…) he brought this inheritance to Bordeaux, where he choreographed many ballets, within which those great classical ones, like "Daphnis et Chloé", "Coppelia" or "Casse-noisette", which would have deserved to be noted if the attention from the Dance's media wouldn't be focused only in Paris".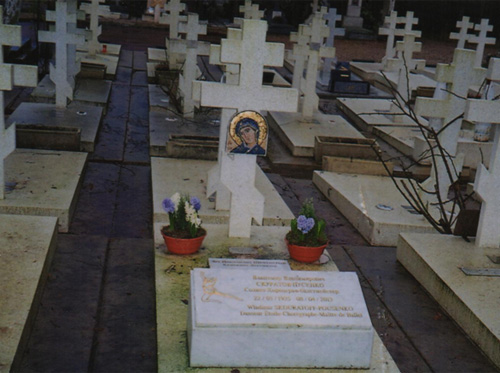 Volodia's grave at the cemetery Ste.Geneviève des Bois
PRESENTATION
"Who was Wladimir Skouratoff? Born at Paris on March 22nd 1925, from emigrant Russian parents, he early knew Gabriel Simonoff, who was going to be his friend forever more, and with whom he would live the last 13 years of his life. They attended the same school and the same Orthodox Church and they only spoke in Russian one to each other. Wladimir was born Voldemar Pousenko, the name of his ucranian father. At the beginning of his carrier, he thought this name was too harsh, and he changed it for Skouratoff, from a great-grandmother, with "Volodia" – which he particularly loved – as a surname."
"His mother, Marguerite Ninontoff, born in Toula, near Moscow, was an excellent pianist. Volodia was therefore attracted by this instrument since his early years, wanting to become a pianist. A Grand Théâtre's dancer says that he arrived to his courses much early, and he instantly seated himself at the piano…"
"A pianist! That was without taking in account his mother's influence, that urged him to become a dancer…"
"He is then conducted to the Wacker studios and under the direction of Mme.Préobrajenska, scales rapidly the steps towards technique perfection. (…) he works assiduously, in spite of some rebelliousness: laughing like a child, he liked to tell how one time he threw his dancing shoes through a window; another time, he stepped down the Meudon-Paris train that led him to his classes! He kept a constant fidelity to his teacher and get back to her classes every time he was at Paris…the same way he adored his mother and didn't wanted to disappoint her."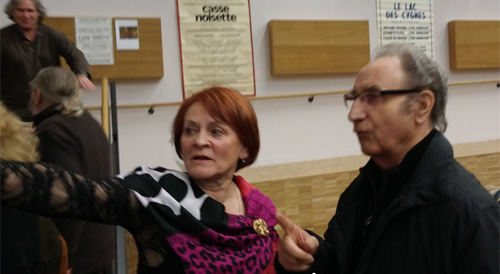 Maryse Ghibaudo. Photo: Henry Delannoy
"His elder brother, Léon Ninontoff, was a painter. World War II made the family situation very hard, they had to earn money to eat; that which he did, using his rudimentary knowledge on dance at the service of the Lido Cabaret. It was an exhaustive nocturnal work, which gave him however a great scenic assurance".
"He did it all for his mom, whom he venerated even when her exigency on becoming a dancer had been sometimes a heavy burden for him…Her death affected him terribly. He kept longtime her coat and her shawl over the armchair at the entry of his home in Bordeaux."
Maryse Ghibaudo continues her conference evoking Skouratoff's extraordinary carrier as a danseur étoile, since 1944 to 1963, and the huge work he did as a choreograph and maître de ballet at the Grand Théâtre from 1970 to 1990:
"After his extraordinary carrier at Paris and London, he is engaged in 1970 by Bordeaux' Grand Théâtre and he arrives then with his mother, to be installed definitively on this city, on the Rue de la Paix 6th, at the house where after several years he would paint the exterior doors with very loud green and red-orange colored rhombus…which he found very beautiful! (Those colors evoked for him the Russian "isbas").
"His essential task was to form a ballet company corresponding to Dance's great French-Russian's tradition, over which the influence of his predecessor Marius Petipa was substantial."
"He worked at this theater over 20 years, modest and silently, somewhat isolated, reencountering every night with joy his little cat black and white, Kissy, his companion during many years."
"And finally, he could mount a company with which he performed theaters at Vichy, Toulouse, Tours, Limoges, etc."
See at this same website our section "His work as a choreographer- A revisal on his work at Bordeaux"
"His temperament, sometimes retrospective, sometimes taciturn, sometimes smiling, was drown away on occasions by a sudden flashing rage when things weren't as he wished to: "it isn't so, it isn't so!" …or the supreme insult: "you are all Latin!" (*)
(*) French expression meaning "you don't understand anything at all"
"Sometimes a chair flew swiftly through the scene; but he was also smiling, playful, he loved to make jokes. He taught Cyril Atanasoff, for instance, without an explanation, several names of birds in Russian, to transmit to Noureev…you can imagine, no doubt, this one's surprise!"
"In the words of some of his dancers:
"He had the gift, he was a great comedian and an immense character dancer".
"A great interpreter of music and choreography, he put there all his passion, his impetus. He searched on his dancers for things they ignored themselves they had. He was technique careless, they should marry with music and feelings, doing always something to enhance their personality."
"Niggardly on explanations, he declared "this doesn't work, this doesn't work!" when he didn't get what he wanted; he went then to search the energy he draw out from the dancers, which had to be expressive and musical at the same time."
"He knew how to evolve the groups, the ensembles, crowd, always in relation to music. Finally, he worked rapidly enough and everything was shaped fast."
"He belongs to the "grand seniors" race…he didn't danced: he was Dance itself!"
"A professor and Dance Director at Bordeaux Conservatory, he was never recognized in all his worth…Retired from the Grand Theater in 1990, once he achieved the retirement age, he didn't wanted to see spectacles for a while. However, he continued his carrier with master classes and conferences and setting up ballets at mostly all French theaters."
"In 2000, breaking up his solitude and exorcising the great fear he suffered during the storm in 1999, he installs with his Russian friends at Léognan…you remember little Gabriel, the orthodox church and school…"

EPILOGUE
"Even when I was always interested on it, I do not know much about Dance; however, I have an unconditional admiration for this art and a profound respect for dancers. And so, after this last months on which reading has merged me, among others, in Wladimir Skouratoff's life, a reflection keeps turning ceaselessly to my mind: have we ever been able to beware the inconceivable luck to be, work and collaborate with such a Master? I don't think so. And when I found, no more than 15 days ago, an article dated on April 13th 1990 from Mme. Florence Mothe that I quote: "Bordeaux has never probably understand who Wladimir Skouratoff was", I felt somehow comforted (and sad at the same time) by the thought that we passed alongside such a fantastic personage as this! This is only a personal feeling, only a little quotation – which besides it's not today's subject – but I needed to express it out loud!"
"Within the course of 3 voyages he made (in 1996, 97 and 98) he discovers his "homeland" which is a great joy for him…In 2006 during a tribute to Serge Lifar at his natal city of Kiev, he is summoned by its Opera Theater and he travels to Kiev. His incredible memory and talent allows him to set "Aubade", which Lifar had created for him and Jeanmaire, 60 years earlier!"
"In 1991 he is operated on a cancer and the following radiotherapy damages some organs, a kidney among them, which requires several years after regular dialysis sessions."
"During his illness he proved to have great courage (he never complaint) and a phenomenal endurance. One anecdote: he was the first to attend to the radiotherapy' service Saturday morning, he get then to Nice to conduct the ballet rehearsal and was back Sunday evening to get back to the X-Rays Monday morning…It's also amazing that he could have been doing his job as a ballet master until 1990, when he was affected by a cancer which – in advanced state in 1991 – should have been declared much earlier! As always, that extraordinary endurance!"
"Until 2010, he gave dancing classes to his friends at the hall of Léognan's house, half an hour every morning. I don't know if it was at the bar…right away, he never missed the scales at the piano. He was pleased to say:
- I've danced and hold in my arms the most beautiful dancers…
- I've had the carrier I wanted with all the happiness a dancer can have…
- I don't ask for more, I wait for my hour to arrive…"

Skouratoff's tribute was illustrated with some excerpts from his choreographies for "Bolero" and "La fille mal gardée" and photos from different periods of his lifetime.
Many of his ancient dancers were present at the occasion whose photos we show below and whose names we mention in alphabetical order: Charline Bourbon, Maryse Dumas, Joselyne Elie, Aline Gendre, Nadine Gravina, Christine Jeannin, Martine Magnon, Evelyne Mangeard, Pascal Manière, Jacqueline Masson, Régine Mauran, Sylvie Marchand, Brigitte Nadal, Michel Raffier, Andrée Renard, Pierrette Uliana.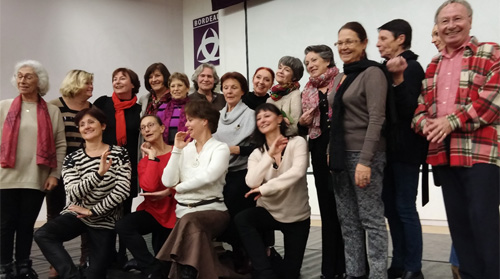 The ensemble of dancers and collaborators
Photo: Henry Delannoy
Henry Delannoy, Skouratoff's great collaborator, exposed at the scene some designs he made for the ballets choreographed during a long period of collaboration.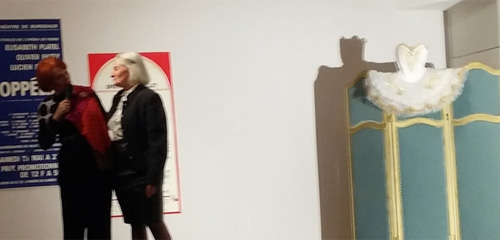 Maryse Ghibaudo and Monique Simonoff
(at right a costume by Delannoy for "La belle au bois dormant")
Photo: Henry Delannoy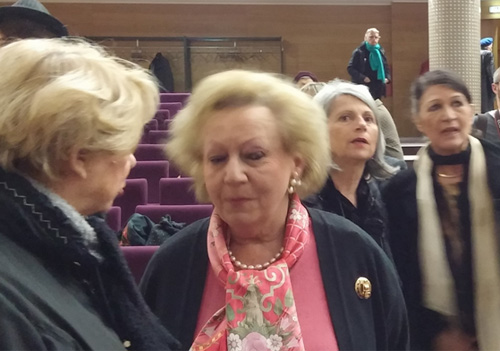 The great critic on music and dance, Florence Mothe, attending the tribute.
Photo: Henry Delannoy